DEALER PROGRAMS + MARKETING SUPPORT
TOP-10 FEATURES & BENEFITS KALATY PROVIDES TO DEALERS
Kalaty dealers are able to utilize and enjoy a number of benefits, programs and materials that are designed to help promote and support their business.
Dealers enjoy access to our vast, $75-million inventory of high-end high-fashion rug collections in all weaves, textures, constructions, shapes and sizes, which is constantly added to and updated throughout each year.
Dealers enjoy our competitive pricing and same-day shipping on most in-stock rugs.
Dealers enjoy our user-friendly website, which offers instant access to images and details of all rugs and collections, Dealer Portal and more.
Dealers enjoy our handy Kalaty app for iPhone, iPad and Android devices (which includes most features of our website as well as Dealer Portal).
Dealers receive our full-color comprehensive catalog.
Dealers always receive our incomparable customer service.
Dealers have access to our in-house design and color work.
Dealers are able to utilize our custom size and color capabilities.
Dealers appreciate our EDI & drop-ship capability.
Dealers can take advantage of our 50/50 Co-Op Ad Program.
KALATY.COM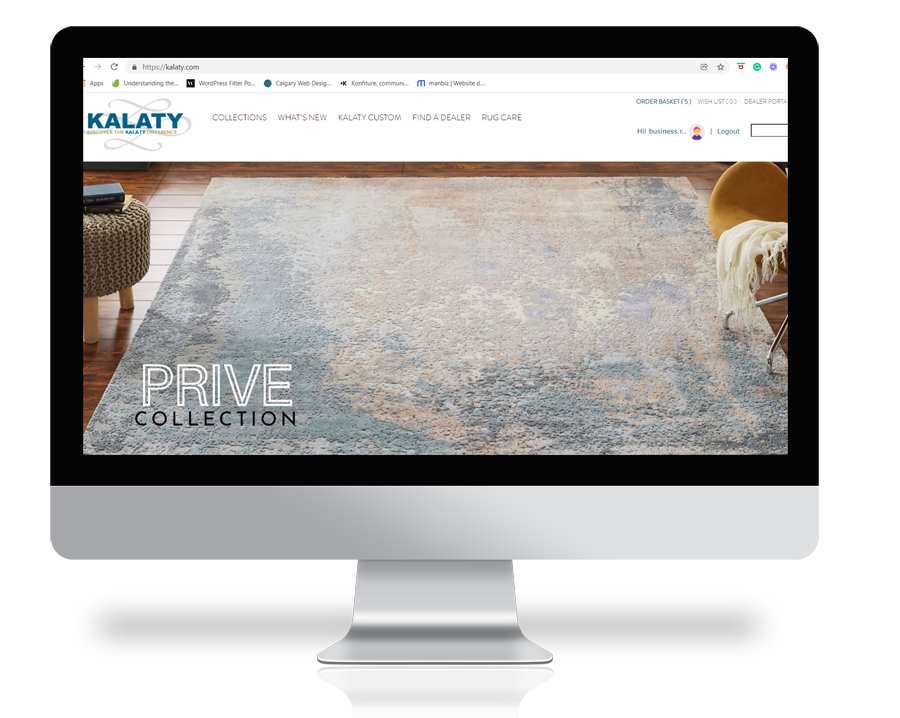 Dealers find our user-friendly website to be a versatile and valuable marketing tool. Not only does the website provide you with instant access to individual digital images of all rugs in all collections along with size and shape information … but the website also provides you with other helpful tools such as the What's New tab, Dealer Finder tab, Hang Tags and more.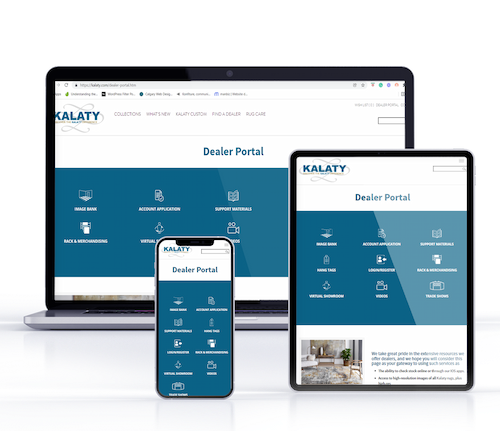 DEALER PORTAL
The versatile Dealer Portal tab (on both the website and Kalaty App) is your gateway to convenient access to dealer log-in for checking stock; placing, checking, or searching orders plus access to other dealer-friendly tools such as the Image Bank and downloading hang tags.
Click here to return to the DEALER PORTAL.
WHAT'S NEW
The What's New tab features images of our newest rugs all in one place. This page changes often because we continually update it when new collections and additions to existing collections are introduced. Check this page often to stay abreast of What's New.
Click here for the WHAT'S NEW page.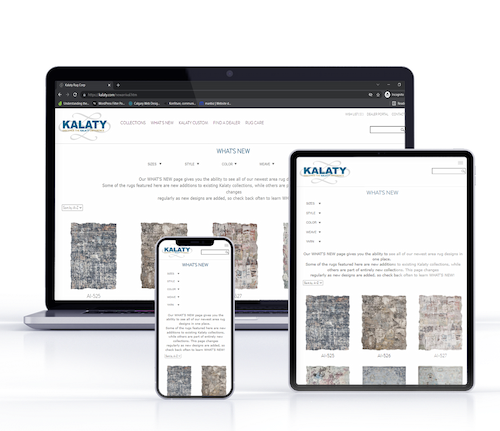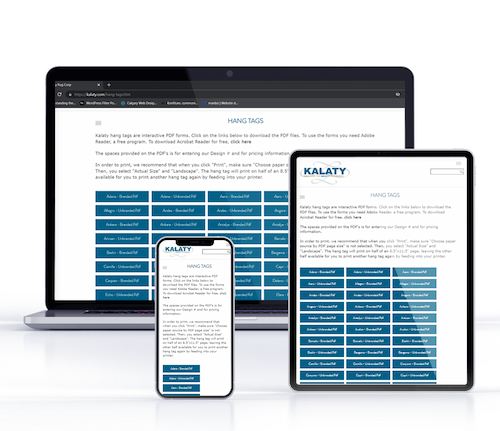 HANG TAGS
The Hang Tag tab gives you access to download both branded and unbranded tags complete with full details.
Click here for the HANG TAGS page.
IMAGE BANK
Our Image Bank is a library of high-resolution images that gives our dealers access to images that are useful for ads, postcard mailers, sale flyers and a variety of promotion purposes. In addition to the wealth of attractive high-resolution full-color room setting images featuring Kalaty rugs, our image library includes individual high-resolution images of every rug from our vast collections, which dealers find to be equally valuable for a variety of functions.
Click here for the IMAGE BANK page.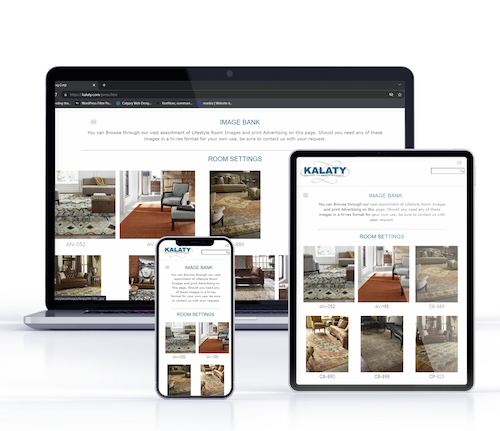 OTHER VALUABLE MARKETING TOOLS
Kalaty offers dealers a range of helpful tools in addition to those found on our website. We go to great lengths to offer you a variety of ways to support you and your business.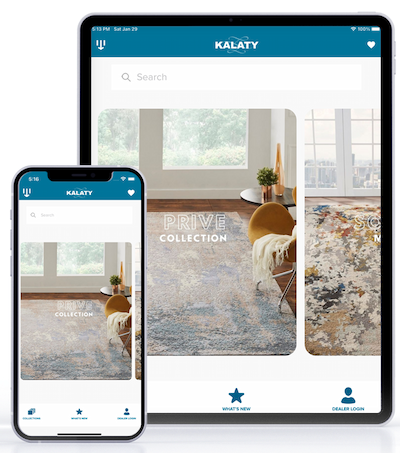 KALATY APP
(for iPhone, iPad and Android Devices)
The Kalaty app is yet another handy easy-to-navigate tool designed for convenient dealer access to all of our area rug collections, What's New plus the all of the Dealer Portal conveniences we offer through the app.
Click here to download KALATY APP.
RACK PROGRAMS
Kalaty offers several rack program options offering you minimal investment with maximum return.
Click here for the RACK PROGRAMS page.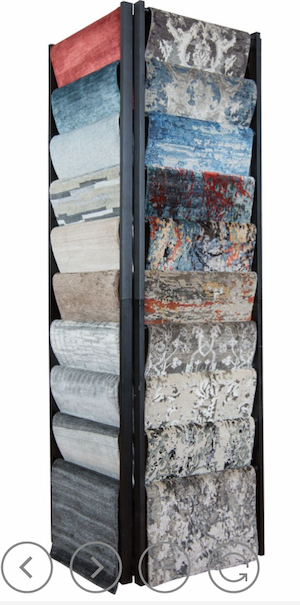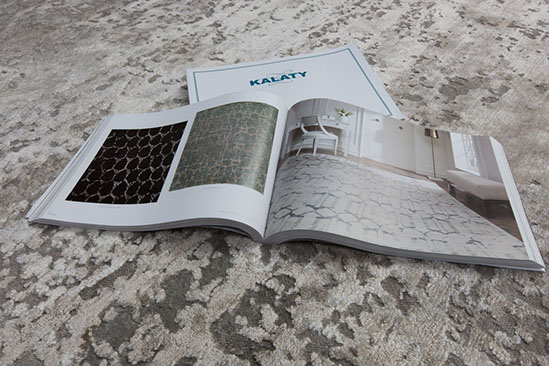 CATALOGS
You will find that our beautifully designed full-color comprehensive Kalaty and K-TWO catalogs offer you a hands-on showcase for our impressive array of rug collections.
CO-OP AD PROGRAM
Kalaty offers dealers a 50/50 ad program in which we will reimburse up to 50% of a customers local advertising efforts when dealer ads depict both our Kalaty logo as well as our rugs.
Please contact us at info@kalaty.com or call us for more details.
SOCIAL MEDIA
We understand the importance of social media today. We regularly post new products news, trend news, hold seminars and other happenings on Instagram, Facebook, Pinterest, etc., in order to engage in dialog through media, designers and consumers with the ultimate goal of driving existing customers as well as new business in your direction.
Feel free to call us toll free (800) 255-7847, fax or email us at info@kalatylcom for more information about any of our products, programs or any questions you may have. We are always here to help!